In our hyper-connected society, a television that refuses to start can quickly become very problematic. And one of the common problems that occurs on LG TVs is the device that freezes at startup on the logo "LG - Life's Good". The screen may remain fixed on this logo or the start-up animation may begin to loop, without ever giving way to the image. This scenario can of course cause panic, especially when you are not sure what may have caused the problem.
However, be aware now that an LG TV, like any electronic device, can encounter a variety of technical problems, whether they are related to hardware, software or power and this is not necessarily serious. This guide then offers you solutions to solve this problem.
LG TV stuck on logo: identify the causes
First of all, know that your LG TV may be stuck for more than a minute on startup after an update. This is the time for the TV to finish installing its update. However, if it eventually turns on but the slow startup persists (more than 10 seconds), it may have another problem. In this case, we invite you to read the following article: LG TV takes a long time to turn on, what to do?
when LG TV is totally stuck on startup, several hardware or software factors may be involved :
Software factors
Software factors are the most common to the problem. Indeed, like any modern electronic device, your LG TV works thanks to a suite of software. Sometimes these software may encounter bugs or errors, especially after an operating system update ou when installing a new application.
On the contrary, if you have not updated your television for a long time, the problem may come from a software that is out of date.
Finally, in rare cases, the problem may come from a virus or malware, although this is less common on televisions than on computers.
Material factors
Hardware issues can also be the reason the TV freezes on power up. This may be due to a defective internal part, very often the motherboard. Note that environmental factors, such as dust and excessive heat, can also damage your TV's internal components.
5 Solutions to Fix LG TV Stuck on Startup Issue
Once you know more precisely the causes potentially responsible for the starting problem of your LG TV, it is time to find an adequate solution. Here is 5 solutions that solve the problem in the vast majority of cases :
Solution 1: Restart LG TV (Most Effective)
The first very simple but also very effective solution which works in 80% of cases when an LG TV is stuck at startup is the restart electrically. This allows minor software errors and malfunctions to be eliminated by electrically resetting its internal components. To do this :
Turn off your LG TV
Unplug its power cord from the electrical outlet
Wait 2 minutes, the time for the components to drain electrically
Reconnect the TV on an electrical outlet, without intermediate accessories such as a power strip or extension cord
Then try turning it back on and see if the restart unlocked the TV.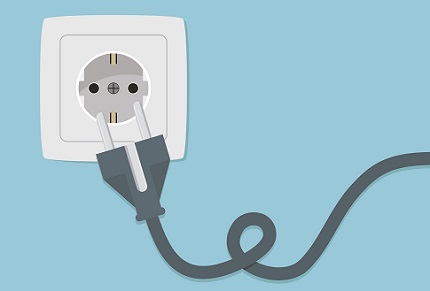 Read also: my LG TV does not turn on anymore, what should I do?
Solution 2: Disconnect peripheral devices
It may also be that your LG television is stuck on the life's good logo due to a compatibility problem or interference with a connected external device. To verify this:
Disconnect the TV from the Wi-Fi network by turning off your internet box temporarily
Unplug the power cord from the electrical outlet
Unplug any external devices plugged into the TV (speakers, internet box, game consoles, computer, Ethernet cable, etc.).
Wait 2 minutes
Just plug the power cord back in and try turning the TV back on
If your LG TV is unlocked and turns on normally, reconnect it to the network and update ("Home" or "Settings" icon on the remote control > All Settings > About TV > Check for software update).
If the TV continues to operate normally, turn it off and reconnect each device one by one trying after each reconnection to turn on the TV again. If after connecting one of them, the problem is repeated, it is certainly due to the peripheral device in question. We therefore advise you to check the compatibility of the device and the television, especially if you have just updated one of the two devices, or to contact the after-sales service of the device manufacturer.
Solution 3: Update Stuck LG TV
In many cases, the problem actually stems from a outdated software or an corrupt or failed update. In such cases, put or restart the update can adjust the blocking. And the good news is that sometimes the TV seems totally stuck on the LG logo, but you can still reach its Menu.
Then try pressing the Home button (or home, settings or smart) on your remote to access it. If it works, try update tv by proceeding as follows:
Select " All Parameters » (then on some « ​​General » TVs)
Go to " About TV »
Select " Check for software update ». 
If there is an update available, launch it.
If you cannot access the Menu, you can try toinstall an update by transferring it from a USB key. For that :
Go to the LG website section Software and Drivers
Enter the model name of your LG TV
Download the latest update available
Insert a blank or formatted USB stick in your pc
Create a folder in the USB stick and rename it LG_DTV
Transfer the data from the downloaded zip file to the folder by right-clicking on it and selecting the option Extract all
Remove the USB drive from the computer by safely ejecting it
Plug the USB stick into the USB port television
Try turning on the TV. If the update is detected, the message " UPDATE READY » or similar should be displayed.
Start the update. It can take up to 15 minutes.
Solution 4: Factory reset
If your LG TV is stuck on power up due to a major software issue, a factory reset may be the solution. This action will erase all data from the TV and restore it to its original state, which can help fix system bugs or errors.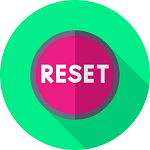 However, for that, no choice, you must have access to the Menu. As seen previously, then try to access the menu via the button on the remote control. Then, if it works:
Select the option General » or « General settings »
Go to " Reset to factory settings ", "Reset settings" or "Reset to initial settings".
Follow the instructions that appear on the screen.
Solution 5: Fix hardware issues
If unfortunately the LG TV gets stuck on life's good logo on startup, the problem certainly stems from a material concern. In your case, the most frequent culprit is the motherboard. But in more rare cases, it can also be the power cord or the power supply board that are faulty, especially if TV turns on then turns off by itself.
Unfortunately, at this stage, the only solution to find a functional TV will be to test and replace the faulty component. It gets technical.
This is why we advise you to call on LG support. A technician will then probably be able to attempt to run a software patch. And if that doesn't work, then you can get a repair quote. Note that if your TV which remains frozen at startup is under guarantee, you will get repaired free of charge.
How to avoid the crash on startup issue?
If you have successfully unlocked your LG TV, we advise you to take steps to prevent possible future problems. Here are some recommendations:
Clean your TV regularly and its environment to avoid dust accumulation which can damage internal components. Also, make sure the TV is placed in a well-ventilated space to prevent overheating.
Perform software updates and make sure you have a clear signal and don't break the connection or turn off the TV when setting it up. Note that software updates may contain fixes for various issues, including those that may cause boot problems.
Replace defective components with quality spare parts to avoid another malfunction.
Conclusion
La LG TV stuck on startup is a relatively common problem. The good news is that with the correct troubleshooting steps, You can remedy this situation and rediscover the pleasure of watching your favorite programs quickly. Solutions include :
the electrical restart of the television
disconnection of peripheral devices
tv update
resetting the TV to factory settings
replacement of internal components
At the end of the day, although technical problems are inevitable, very often there are solutions to solve them quickly and efficiently.